Life With Cancer Isn't a Life Diminished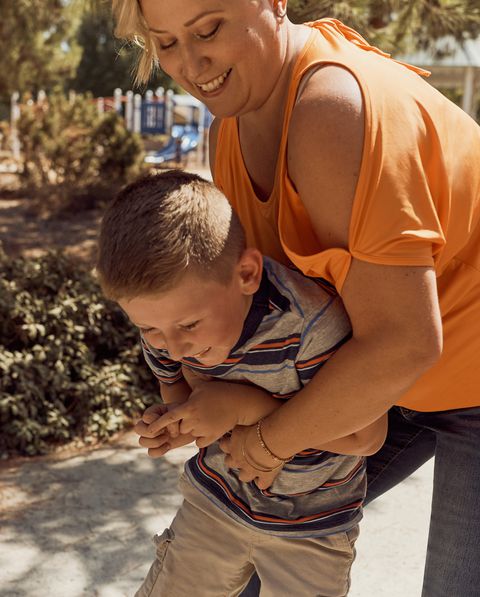 "I'm more present as a parent, I think, than I would be if I didn't have this clock ticking."
In 2009, I felt a lump in my breast and instinctively knew something was wrong. It was very blatant and obviously foreign. When I saw my regular doctor, he said, "It's probably a cyst, don't worry about it. You're too young to have breast cancer." I was 31 years old.
The follow-up mammogram didn't find anything, even though the tech could easily feel it as well as I could. Because it was so close to the surface, I elected to go ahead and have a lumpectomy and biopsy.
On the day my results came in, I popped over to the surgeon's office during a 15-minute break from work. I didn't take anybody with me because it didn't feel that serious — all the doctors, surgeons, and even the radiologist had been telling me that it was likely nothing.
And then I heard, "I'm sorry, it's breast cancer. And we didn't get it all." Cancer cells had already moved into the tissue surrounding my lump. I was stage 1B.
I had a bilateral mastectomy and went through six months of chemo. I was told I would never have children, which devastated me. I don't think people realize how much of your life is changed by something like a cancer diagnosis when you're young.
But then, three months after chemo ended, I found out I was pregnant with my son — my miracle baby.
After Colin was born, I went back to work, continued to go to my checkups, and everything was fine. When Colin was 2 years old, I got divorced. And then, at my five-year checkup a year later, I found out that the cancer had come back and had metastasized to my bones. Just like that, I was stage 4 and terminal. It was completely shocking. It was as if a chasm in the world opened up and I had fallen right into it.
I think for the first year, I just cried. I was a single mother with a 3-year-old son and a terminal disease with a life expectancy of three years. It was earth-shattering for me. But I've always been a very proactive person, and a big believer in becoming your own advocate and educating yourself. So I started researching.
Before my diagnosis, I had never even heard it was possible for breast cancer to go into other parts of the body. I got a second opinion and switched to a new doctor I felt more comfortable with, which made me feel more confident and proactive about the treatment I would be receiving.
What helped shake me out of that first year of grief was deciding to put my son's childhood first and trying to focus on that instead of dwelling on the fear of what was happening to me. He's 7 now, and I'm very conscious of the fact that he's living this life with me.